Why use compressed air dryers in your compressed air system?
If you have problems with moisture in your compressed air line you will require a compressed air dryer. Most dryers you can buy in the market will work on the basis of being either refrigerated or desiccant. Refrigerated dryers are lower cost, lower maintenance and often use less energy to operate, however they dont dry the air as much as a desiccant dryer. Having said this for most industrial applications a refrigerated dryer is more than adequate. Desiccant dryers will normally be required for more specialist applications such as food and pharmaceutical.
Humidity is a component of atmospheric air, which can be found in the compressed air distribution systems and the machines that use the compressed air in the form of condensate and/or vapour. If left untreated the humidity found in compressed air in the form of vapour, will follow the air flow all the way to the final product.
When it then cools, a part of this humidity present in the compressed air condenses to form water and over time causes serious damage to the distribution network, the machines using the compressed air and the final product.
You can buy ABAC dryers and filters direct at best prices from our online shop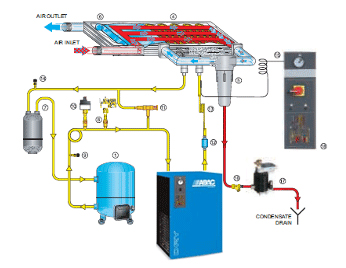 Key Benefits of using a refrigerated dryer:
No more moisture in the airlines.
Longer life for pneumatic equipment, as the use of dry air guarantees reliable performance over time.
Greater productivity due to fewer machine faults.
Lower maintenance costs as condensate is the main wear in may applications.
Energy saving as there will be no corrosion in the pipework causing pressure drop.
Lower installation costs as there is no need for slopes or drain points in the pipework system.
When installed with two stage filtration the air supplied will meet ISO standard 8573 2.4.2.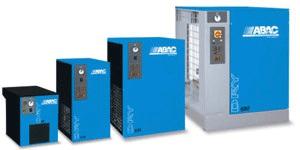 Our range of ABAC Compressed Air Dryers includes refrigerated dryers to suit all sizes of compressed air systems for all applications.Sizing the correct refrigeration dryer is paramount to achieving a constant dewpoint and to eliminate any harmful condensate in the compressed air. Whilst there can be many factors which need to be considered, if you run a standard industrial screw or piston compressor in normal conditions the easiest way to size a dryer is to match or slightly exceed the output of the compressor. For applications where the working conditions may be out of the ordinary, ie a very hot or cold environment it is always best to call to discuss the specific requirements of the application.
You can buy ABAC dryers and filters direct at best prices from our online shop 
If you are unsure of the output of your compressor please contact us with the model number and we can calculate the output and size a dryer accordingly.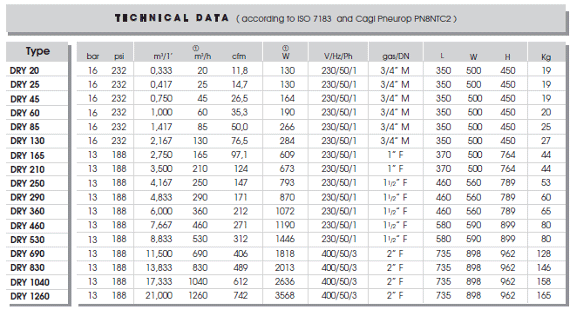 Key benefits of an ABAC refrigerated dryer:
High reliability is achieved through the continuous development of the DRY range.
First-class quality components are utilised which have been tested thoroughly under the most adverse operating conditions.
Constant dewpoint control under any load condition
Automatic operation, low maintenance
Digital dewpoint display on all models
Intelligent automatic discharger of condensate
No CFC, No impact on the OZONE layer
Compact space saving design
Extremely easy to install Compatible with any compressor technology
Buy ABAC dryers now, direct online at best prices from our online shop