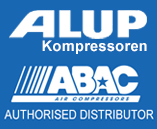 Airpower UK are an authorised distributor for Ingersoll Rand and ABAC air compressors, which means together we can offer our customers one of the most comprehensive portfolio's of compressed air equipment in the country, from two of the biggest manufacturers from across the World.
The best of both worlds
Whether you are looking for a screw or piston air compressor, ABAC air compressors offer the right product for you. In addition, as an authorised distributor, we can offer unparalleled aftersales support including a 2 year warranty as standard on all professional grade screw compressors, often extendable to 5 years. As well as the largest range of air compressors on the market today, ABAC also offer a comprehensive range of air treatment and storage products, so whatever you need for your compressed air system ABAC will have the best product for your needs.
It's been more than 135 years since Ingersoll Rand introduced its first pneumatic device. Many years and products later, Ingersoll Rand continues to take great pride in helping customers around the world be more productive and to better serve their customers. The current range of air compressors and downstream equipment from Ingersoll Rand is some of the most advanced available in the market today. Bespoke air-ends, high efficiency I4 motors, advanced electronic controllers as standard all backed up by 5 year warranty as standard, results in one of the most advanced, efficient product line-ups in the market today.

We have over 10 factory trained, highly experienced, engineers on the road everyday across the South East of England and East Anglia. Our engineers are working on customer machines everyday, helping with installation, servicing and pipework installations with the aim of giving all our customers the most reliable, most efficient and most cost effective compressed air system.