The global market leader in compressed air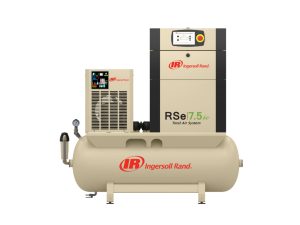 Ingersoll Rand is a long standing, high quality, air compressor manufacturer. It has a reputation for making some of the most efficient, most reliable and most robust air compressors on the market today. Headquartered in the USA, it is a truly global company with subsidiaries across Europe, the Middle East and Asia.
It's been more than 135 years since Ingersoll Rand introduced its first pneumatic device. Many years and products later, it continues to take great pride in helping customers around the world be more productive and better serve their customers. As a global market leader with a broad range of innovative and mission-critical air, fluid and medical technologies, providing services and solutions to increase industrial productivity and efficiency.
In early 2020 Ingersoll Rand merged with Gardner Denver, another world class air compressor manufacturer. The new combined company called the Ingersoll Rand Group have more than 300 years of combined experience and innovation expertise and have created one of the biggest air compressor manufacturing groups across the globe today.
The Ingersoll Rand product range from Airpower UK
Airpower UK offers the complete commercial range of Ingersoll Rand products through our main office in Burys St Edmunds, Suffolk. We can supply and service the complete range of piston and lubricated screw air compressors from 4KW up to 200KW and above.
The R series – The R series is the oil flooded lubricated screw air compressor range from Ingersoll Rand. The R series includes the fixed speed 'i' range and the variable speed 'n' Nirvana range. Compressors can be supplied as floor mounted units or can be supplied as a 'TAS' (Total Air Solution) which includes air compressor, receiver and dryer all mounted together as a single unit.
In mid 2020 a brand new range of high efficiency R series compressors were launched. This new range which covers the all sizes between 7.5KW and 45KW are available as fixed 'ie' and variable speed 'ne' (Nirvana) units and are called the 'Next Generation R Series'.
The Next Generation R Series are significantly higher efficiency and have a smaller footprint than the earlier generations.
To find out more about the Ingersoll Rand R series range of air compressors click here or contact us