Oil Water Separators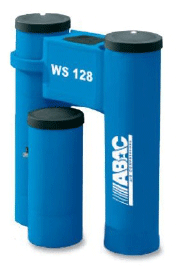 Why use an oil water separator?
Compressed air holds a lot of water vapour, and once that vapour becomes cooled into a liquid (condensate) it becomes an oil and water mixture. Due to Enviromental regulations this cannot be discharged into a drain. Therefore a compressed air water separator is needed to separate the approximate 5% of oil from the 95% of water in the condensate so that both can be disposed off correctly.
The ABAC WS Series oil-water separator collects the separated oil in a suitable container allowing the water which has been cleared of impurities to be drained. At the end of the process, the water can simply be discharged on site into the drain
Key benefits of using an oil water separator: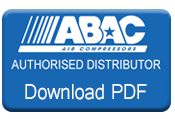 Rinsed water which can be discharged easily.
Oil is separated and collected safely for correct dispoal.
Easy operation and user friendly with maintenance indicator.
Requires minimal installation and maintenance.
Meets environmental regulations.
Excellent performance due to oleophilic and carbon filters. 
---
Electronic autodrain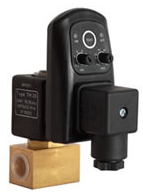 Why use an electronic autodrain on your air receiver? No more manual draining of the air receiver and it eliminates the problems caused when it's not drained regularly. The timed autodrain valve provides plug in and leave simplicity. Set the frequency and the drain time and it will get rid off any condensate build up automatically.
Standard 240v drains are kept in stock.